You asked, we're answering! The answer is: Of course you can. You can wear anything you want. But what we really want to know is, "How do I look great and feel confident wearing a pleated skirt when I have a full midsection?"
Let's belly up to the coffee bar and have a chat about this.
I adore a pleated skirt, don't you? It's one of those 'love at first sight' events when reason and rationality fly out the window and the skirt is mine before I even think how to style it. I'm a size 12 at this time and am definitely sporting a full midsection that I want to minimize.
But, you ask, doesn't a pleated skirt make you look bigger especially with a tummy?
A little. And here's a great thing about growing older. Body acceptance.
Our bodies are what they are at this moment in time and aren't we grateful that we can move? Every day is a body celebration because, by now, I'm sure many of us know what pain and limitation look like. I know I enjoy playing tennis or taking a walk even more these days than before. Are we going to let the fact that we may look a smidge larger from the waist down stop us from wearing something we love? No way. With a bit o' style wizardry, we can look good and feel great whilst traipsing about in our pleats!
Here are 3 Style Wiz Tips to make a belly disappear
Style Wiz Tip #1: Pull attention upwards
We may have 2 eyes but they can't focus on the waist and the face at the same time. Jewelry, a scarf, eyeglasses, and a bright lipstick can all create a focal point riveting the eyes' attention upward.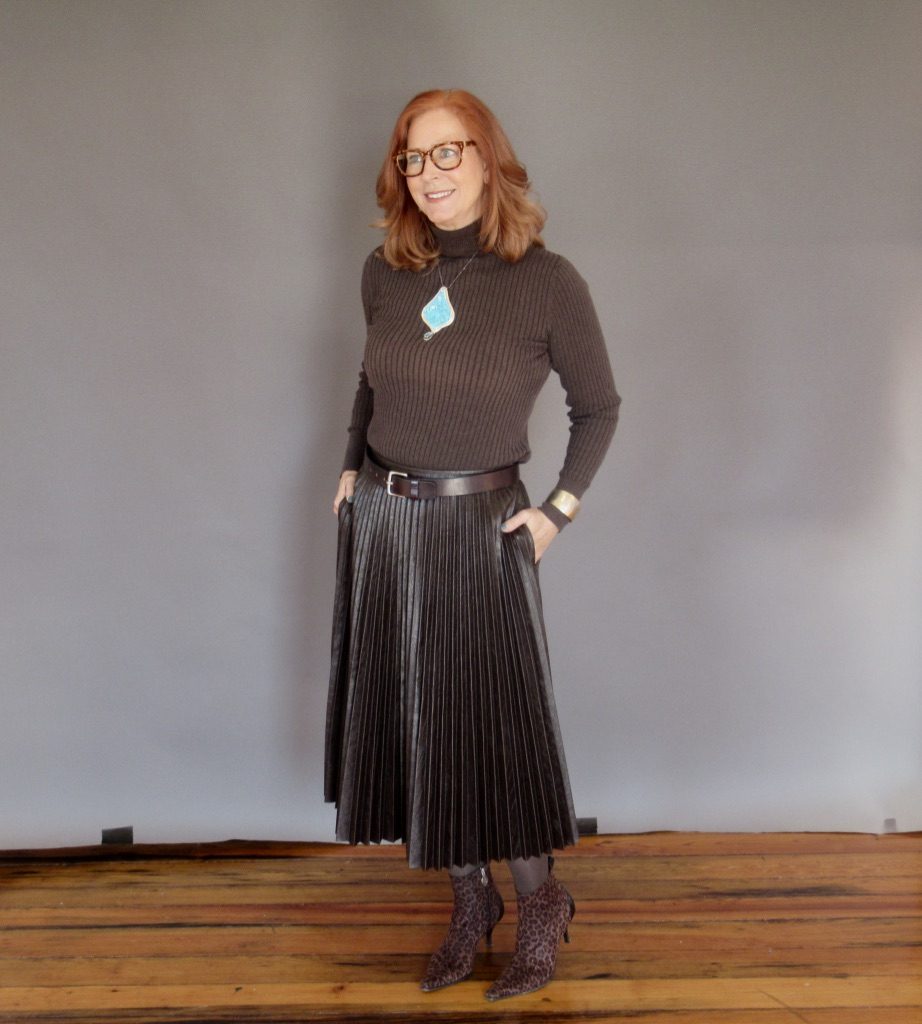 A statement necklace like this turquoise beauty garners immediate attention and keeps the eye moving upward to the face. A monochromatic look makes it even easier to highlight a statement piece.
Style Wiz Tip #2: Create a Waist
If we even so much as give a suggestion of a defined waist, the eye will register our figure as having a waist. The idea of 'waist' is incongruent with 'belly' so 'waist' wins out.
Note in the pic above that I chose to tuck in the turtleneck and wear a belt. I find that as my waist thickens, I often prefer to cover it up. Belts aren't usually part of my style repertoire. But here, I wanted to trick the eye a bit by creating a waist with the tuck in and belt. In a quick second, our eye sees the belt, assumes there's a waist and then zooms up to drink in that turquoise necklace.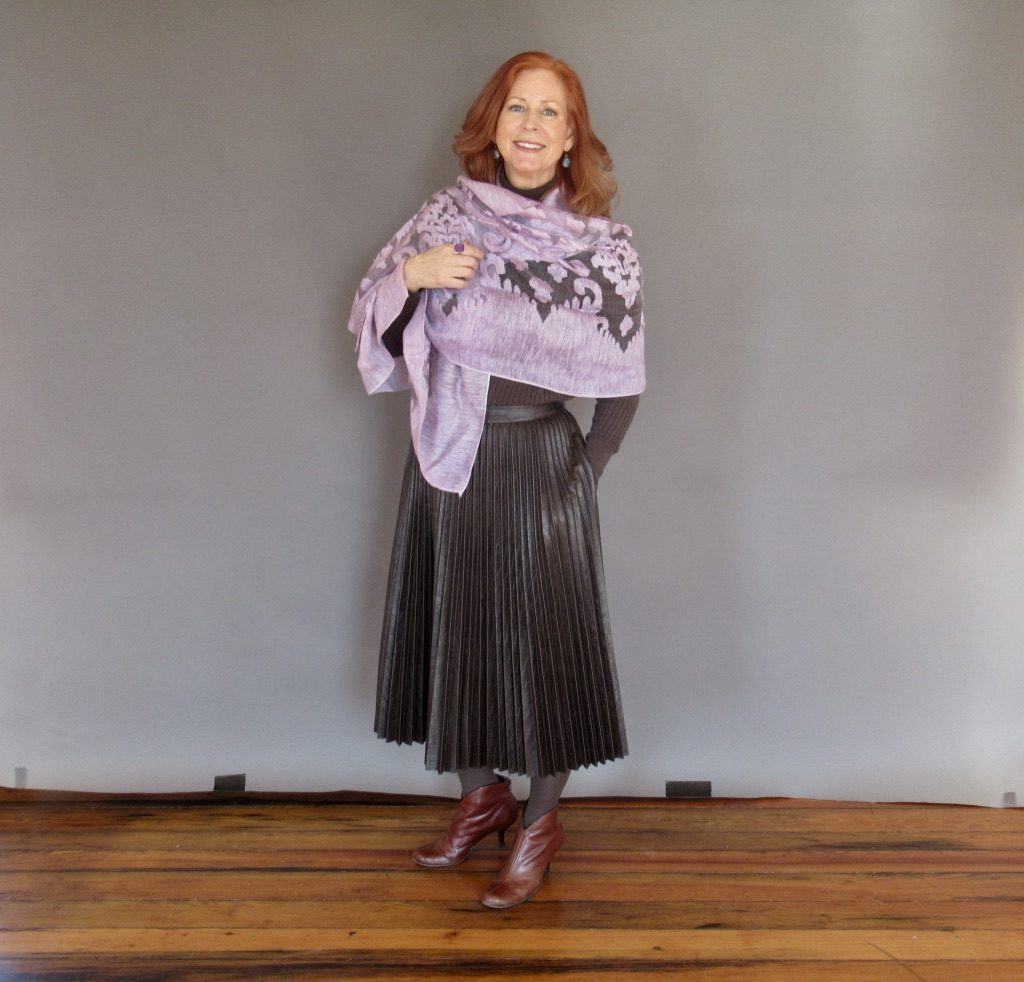 Color from the lavender scarf and the turquoise earrings help bring and keep attention upward. The tucked in turtleneck continues to give the illusion of a waist. I picked up this scarf in Cambodia a few years ago on the way to see Angkor Wat, an impressive cultural site from the 12th century.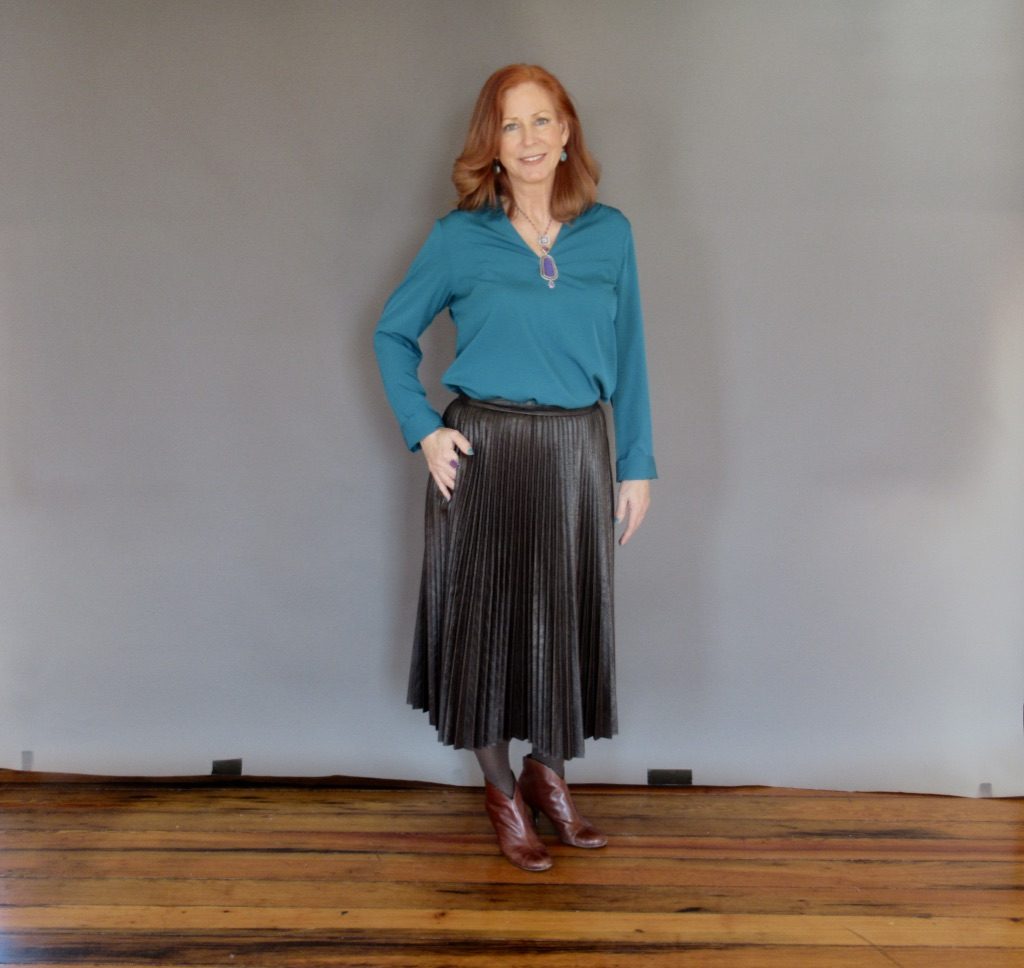 Another example using bold color and necklace to keep the eye moving up and creating a waist by tucking in the blouse.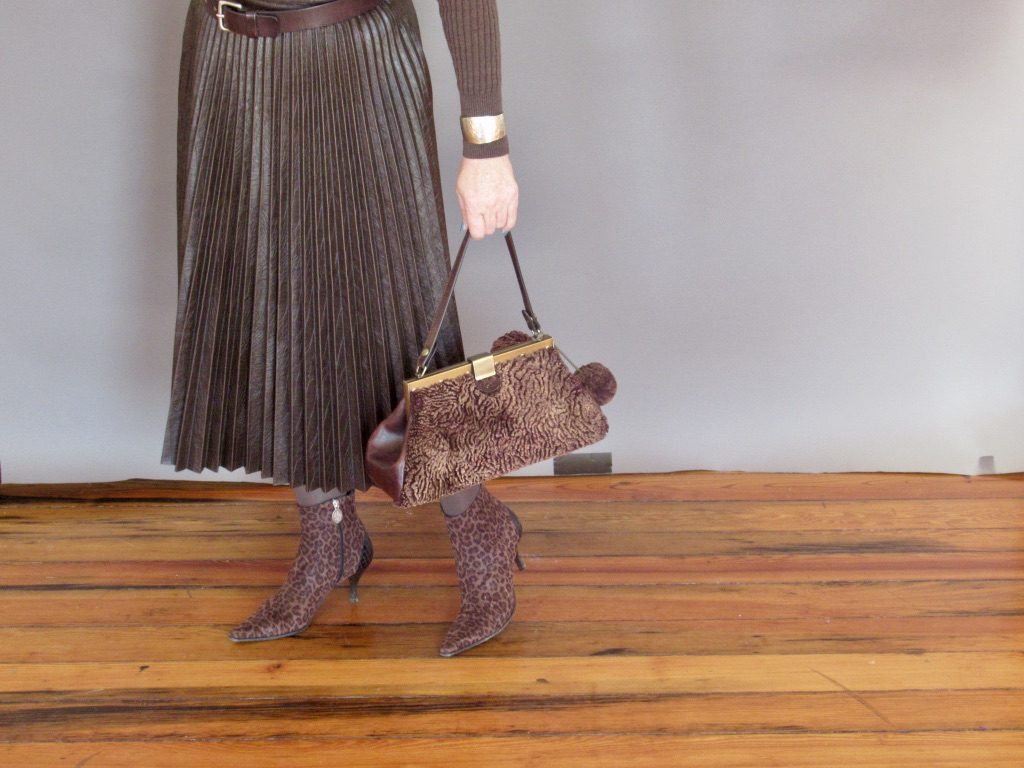 Accessory fun. The strong lines of the pointed-toe boot and the structural nature of the vintage-like bag work well with the strong lines of the pleats. A gold cuff bracelet adds to the strong statement.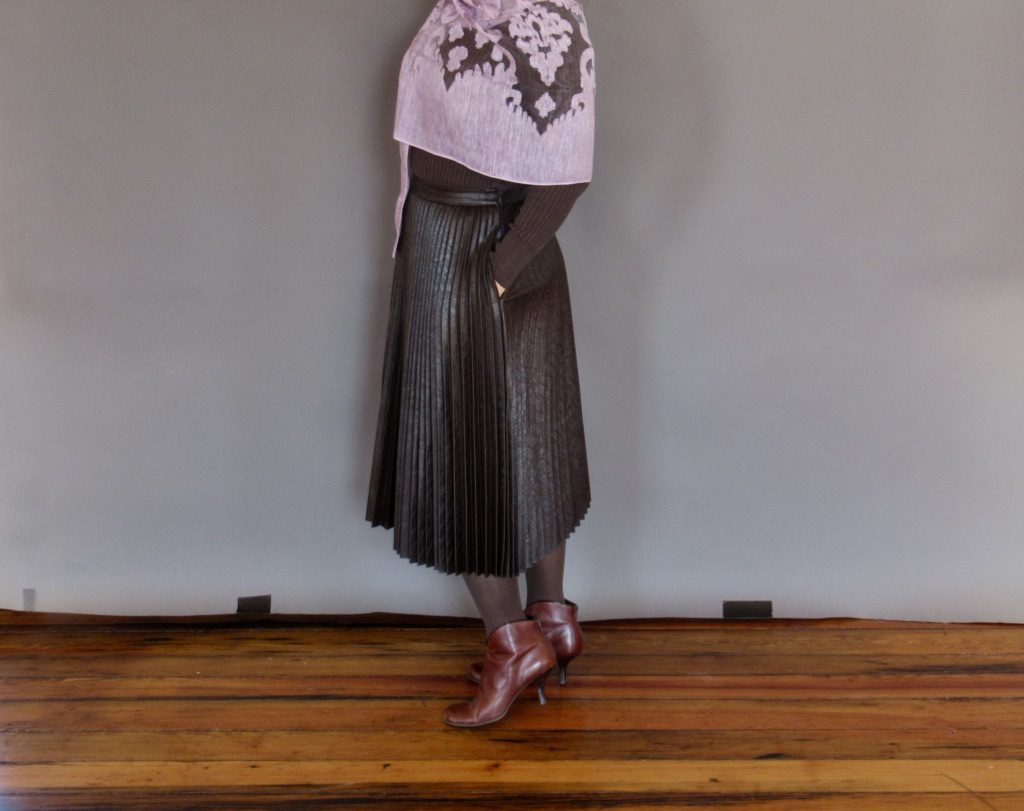 Because I'm dedicated to designing clothes that are flattering for women over 40, I've studied how to minimize a belly. One of the key ways is to make sure our clothing hangs down over the belly without hugging it. We don't want to show the contour of our belly. In this photo, having the skirt not too tight at the waist and hips ensures that the skirt falls straight down, covering the curve of the belly as it comes in to the hips.
Style Wiz Tip #3: Cover up the belly (we all know this one)
This look checks all the boxes. Belly covered, waist created with wrap-jacket ties, and attention is brought up with the tie from the blouse and the statement necklace. Bonus points for the tie creating a slimming vertical line and the silk jacket having some attention-getting shine. There's a lot going on here. Sometimes more is more.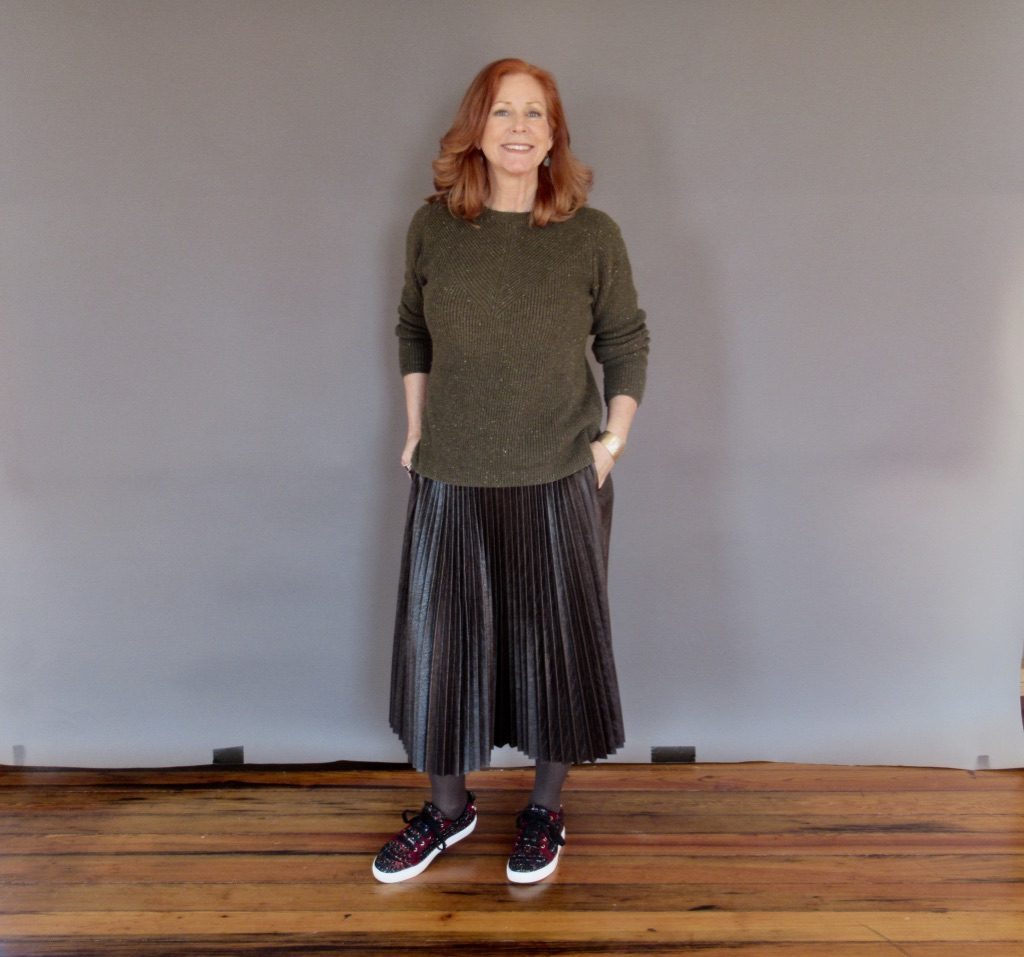 Paring it down for my casual lifestyle, I love a comfy sweater and a pair of sneaks. They easily dress down this croc-embossed faux leather skirt which means I get to wear something I'm crazy about more often.
So can we carry off an accordion pleated skirt in spite of a full midsection? Absolutely. We just call on one or more of the Style Wiz Tips and we'll be sashaying out the door (or into the next room in our new work-from-home environment), pleats swaying, confident and ready to slay the day!
Accordion pleats are my shopping kryptonite, as are shoes and books. What are yours?
With mirth and laughter , let old wrinkles come .
– Shakespeare.
Love,
Dee
---