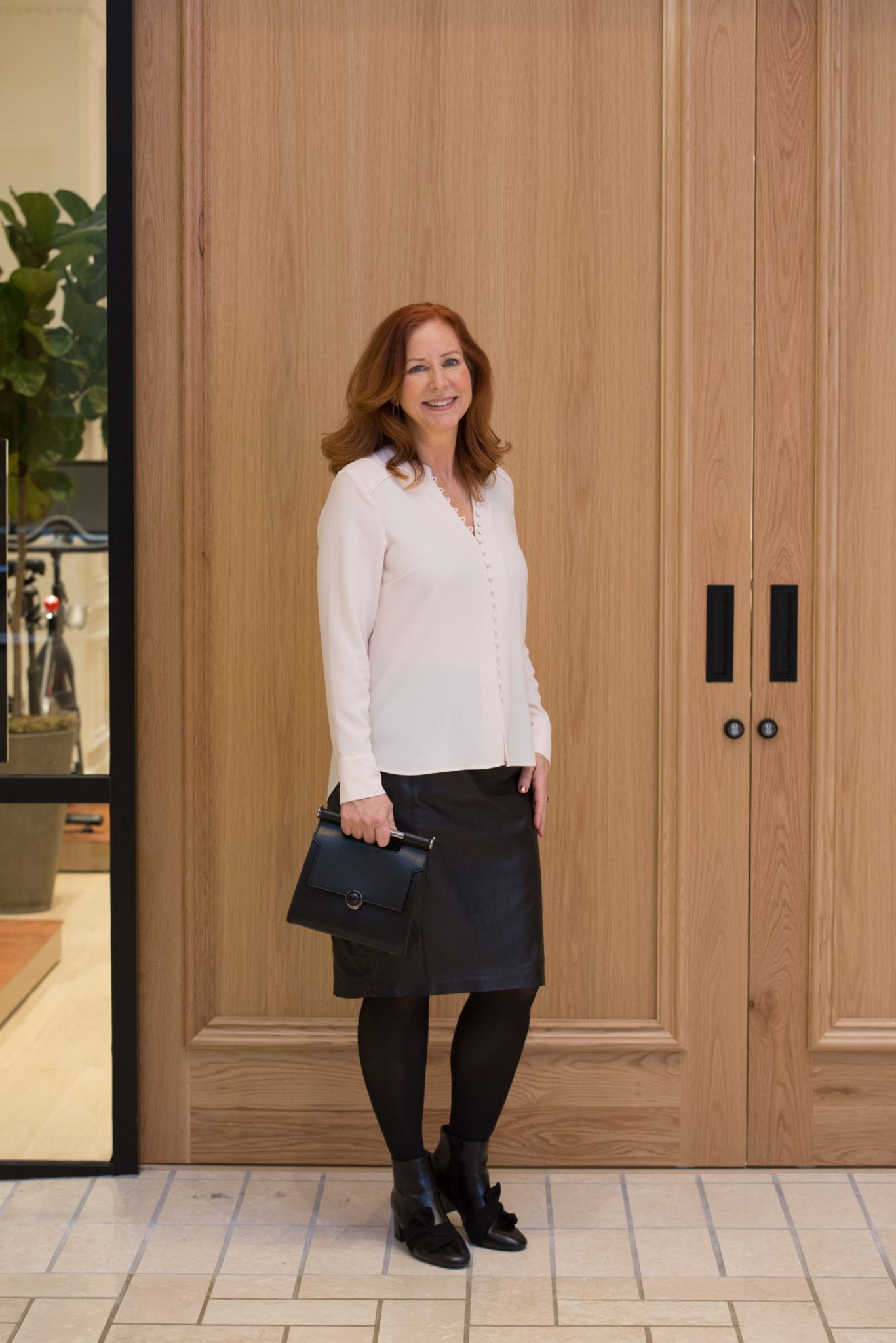 Today's  outfit  is  a  sassy-but-subtle  black  leather  skirt  with  a  crepe  blouse  in  blush .
What I love second-best about this outfit is — wait, what?  Second-best?  What happened to first-best?  Ah, when there's leather involved, be still my heart, it will always be first.
I love the texture and edginess of leather whether real or faux.  And I love what leather says about the wearer: bold, creative, edgy, a curator of her own style.  Here I softened that message with a feminine blouse because I felt like doing a contrast of hard and soft.  Yin and yang.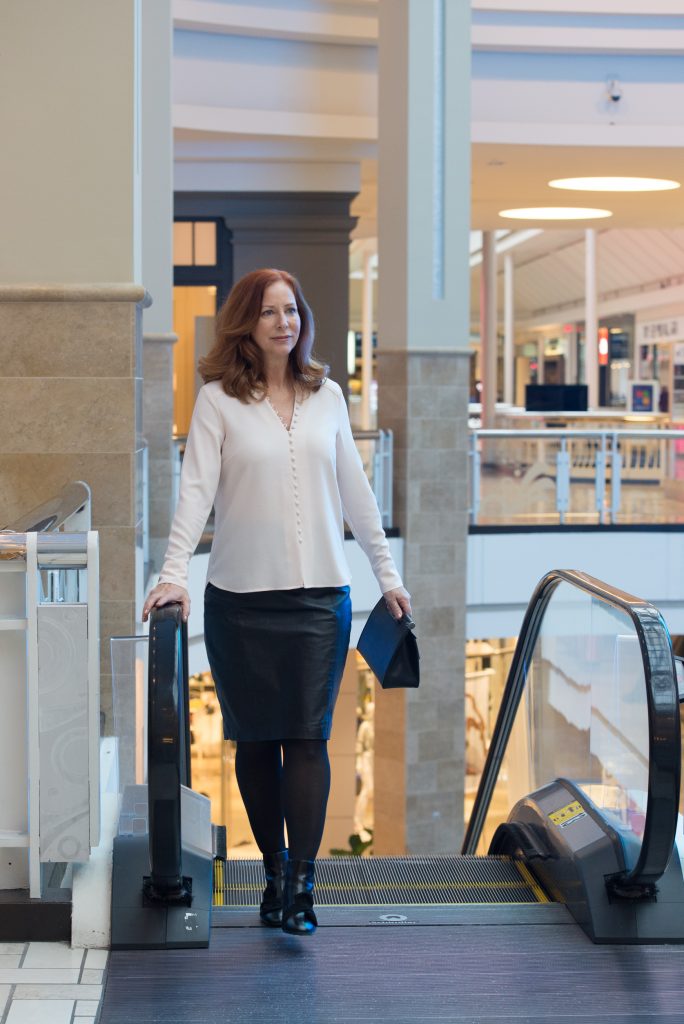 The skirt is Blanc Noir from Nordstrom Rack that I picked up years ago.  It's an investment piece with leather that is deliciously supple but firm enough to keep its structure as a pencil skirt.  Even though leather, it's as versatile as any black skirt.  I'd wear it for work, brunch/lunch, a wedding, date night, etc.  I love the curve appeal of a pencil skirt (fitted, straight skirt that narrows down to the hem).  It's particularly flattering on those of us with curvy thighs when going for a shapely look.  I'm groovin' on the length, too.  These days, I'm more comfortable in skirts that hit near the knee.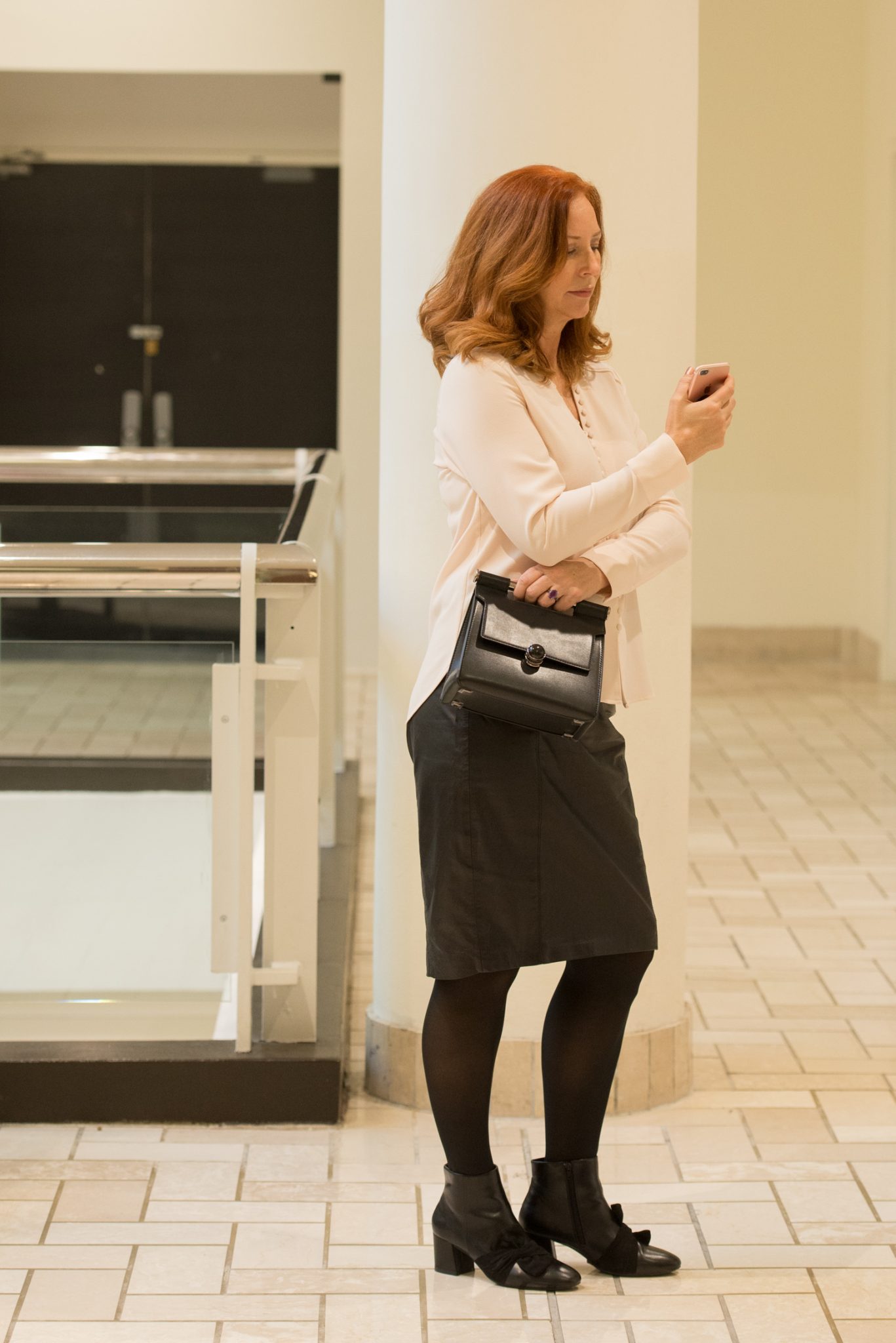 And speaking of comfort… that's what I love the second-best:  the ease of this combo.  It's just an untucked blouse and skirt.  What could be easier to throw on and wear?  But ooh la la, the fabrics and design details elevate it to a level of serious chic cred.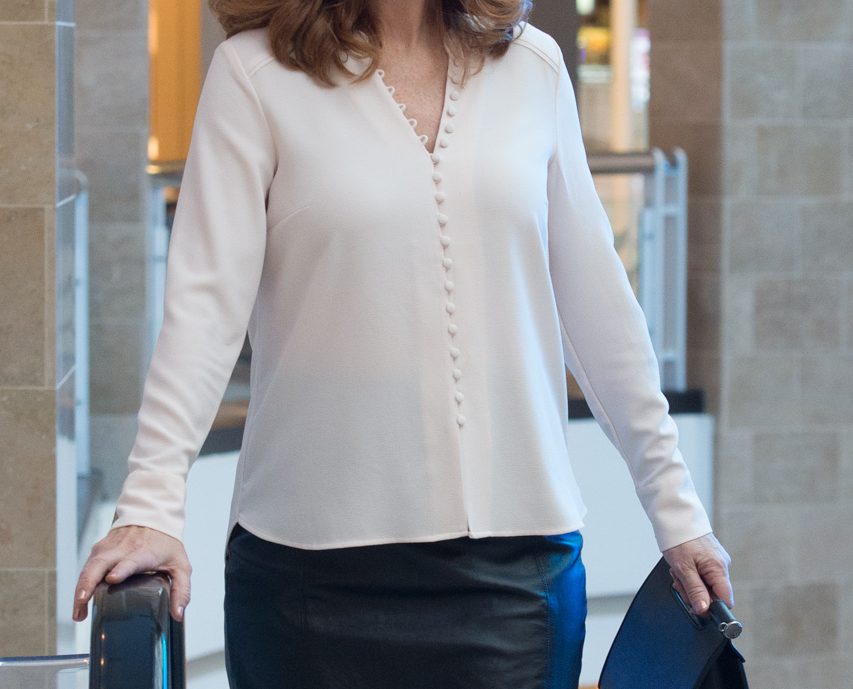 Let's talk for a sec about that blouse.   It's from H&M some seasons ago and here it creates a good example of high-low dressing, or mixing expensive clothing (leather skirt) with inexpensive (blouse).  This gem is full of details without looking fussy.  The covered buttons and loops cascading down the front remind me of the back of a beautiful wedding gown.
In my perfect world, I would wear gowns every day.  Just sayin'.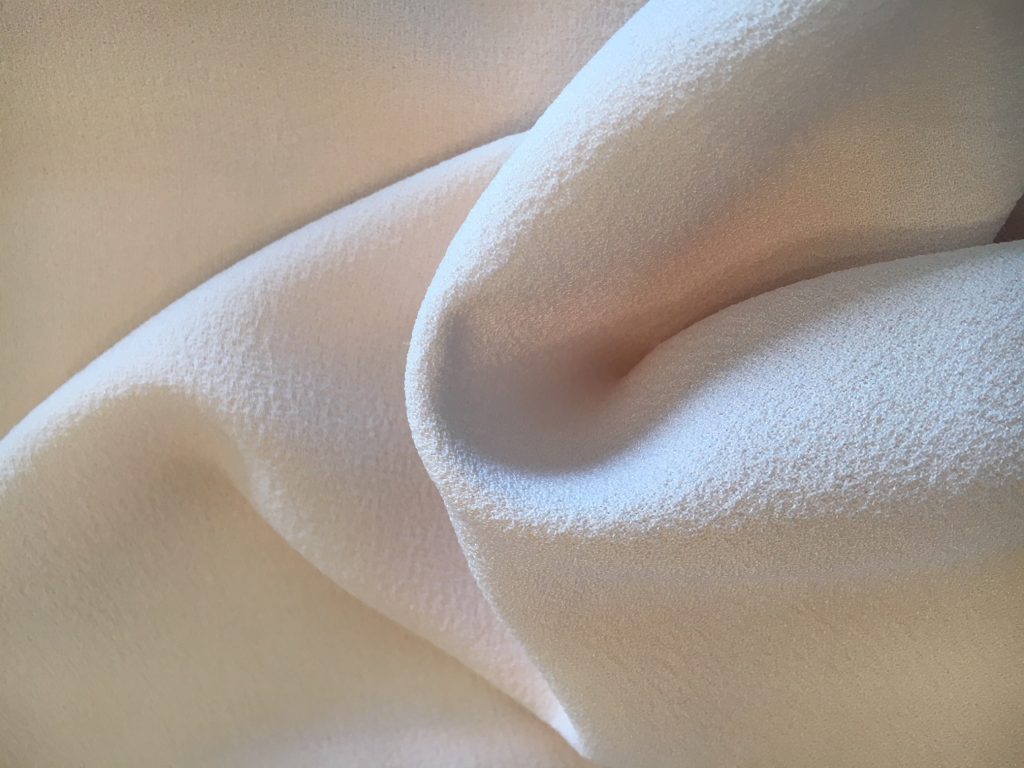 I'm a fabric fanatic so we must consider this polyester crepe.  It's a matte fabric with a subtle moonscape texture.  It has enough body to hang and drape well, covering the midsection nicely in this straight cut.  Crepe used to be the domain of evening clothes and suits but now is trending more in casual wear.  And did I mention it doesn't wrinkle easily?  Score!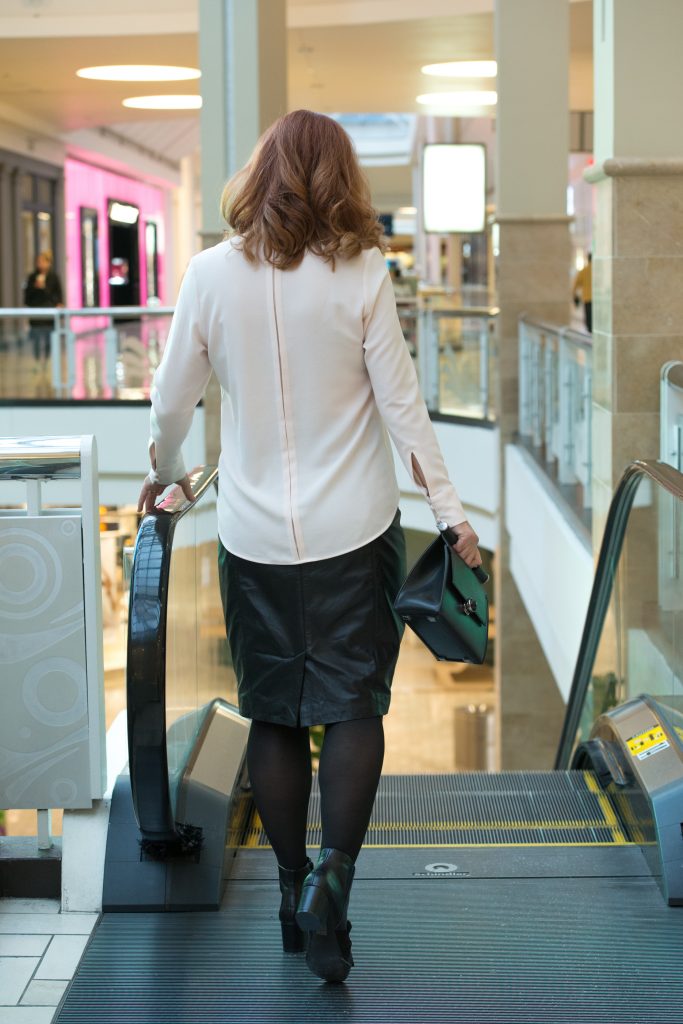 The placket running down the back of the blouse keeps with the theme of easy elegance.  The bonus is the vertical line it creates.  The eye travels up and down and not side-to-side, breaking up a wide space and making for a longer, leaner look.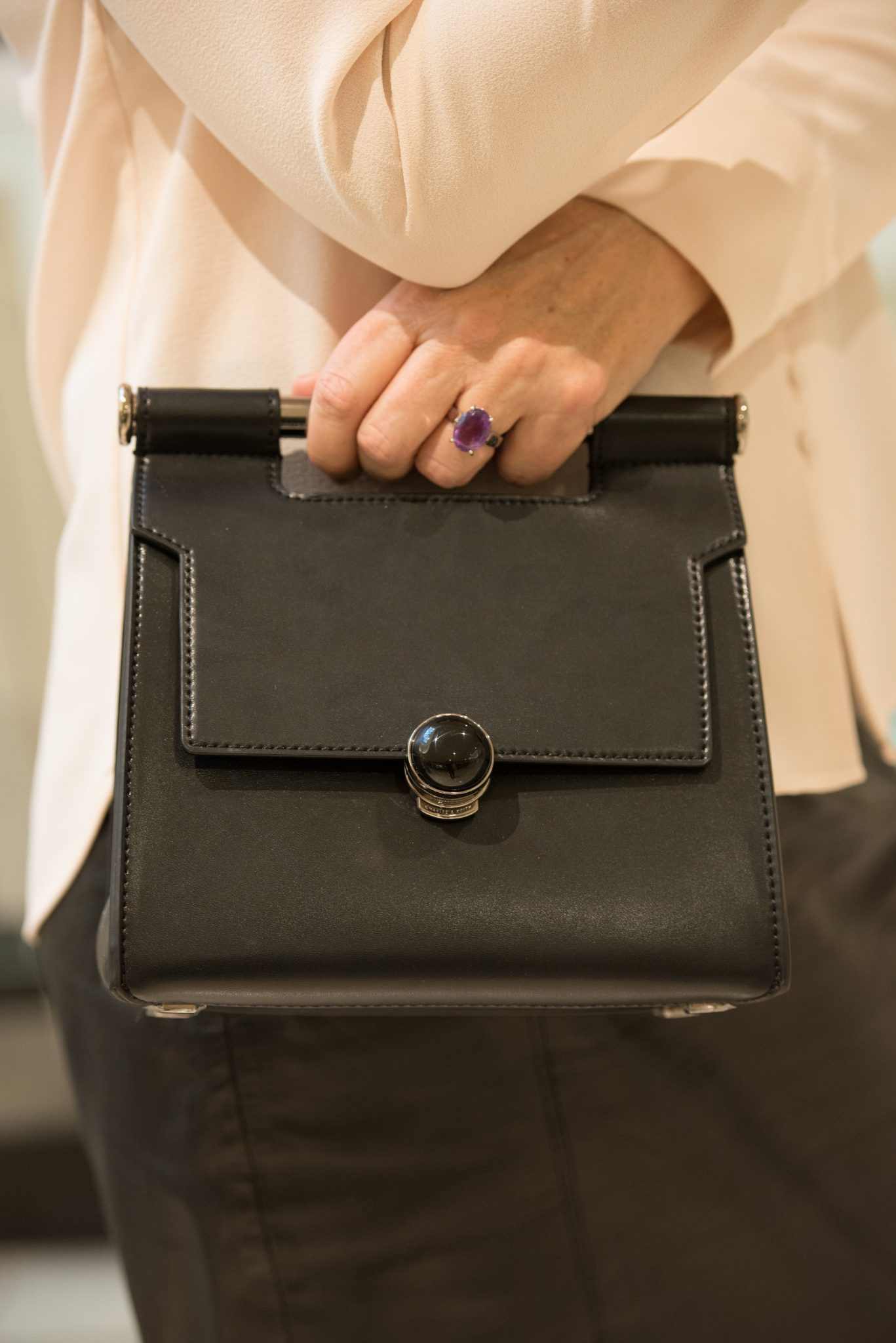 This cute structured handbag is from a recent trip to Bangkok.  It's from Charles & Keith, an affordably-chic chain store with 500 locations all over Pacific Asia, the Middle East, and Europe.  They also have an online store, which leads me to believe I no longer have to travel half way around the globe to buy more of their stylish handbags, shoes, and sunglasses.  And yes, I bought each of those items and won't hesitate to try ordering online soon. *A warning about the shoes:  they are tailored for Asian women sizes (according to their website) so if you wear a US size 9.5 or larger, use their size guide and measure your feet to see if they carry your size.
The amethyst ring I ordered from MsKit when I was in Cambodia and, at this time, her business is word-of-mouth because she doesn't need to advertise.  Kit has just moved back to the US.  If you're interested in checking out her jewelry, let me know and I'll forward you her contact info.
Pencil skirts look good with either heels or flats.  Today's boots I picked up at a Texto in Paris during our New Year's trip.  Texto is a chain of affordable, trendy shoes, and I must say, these are very comfortable. They don't ship to the US as of this date, but if you are in France, you can pop in.  I just now discovered that many younger fashion bloggers wear Textos.
Don't be intimidated by the youthfulness of the shop — 
We  owe  it  to  younger  women  to  show  them  that  style  stays  
fun,  relevant,  and 
 emboldening  as  we  grow  older !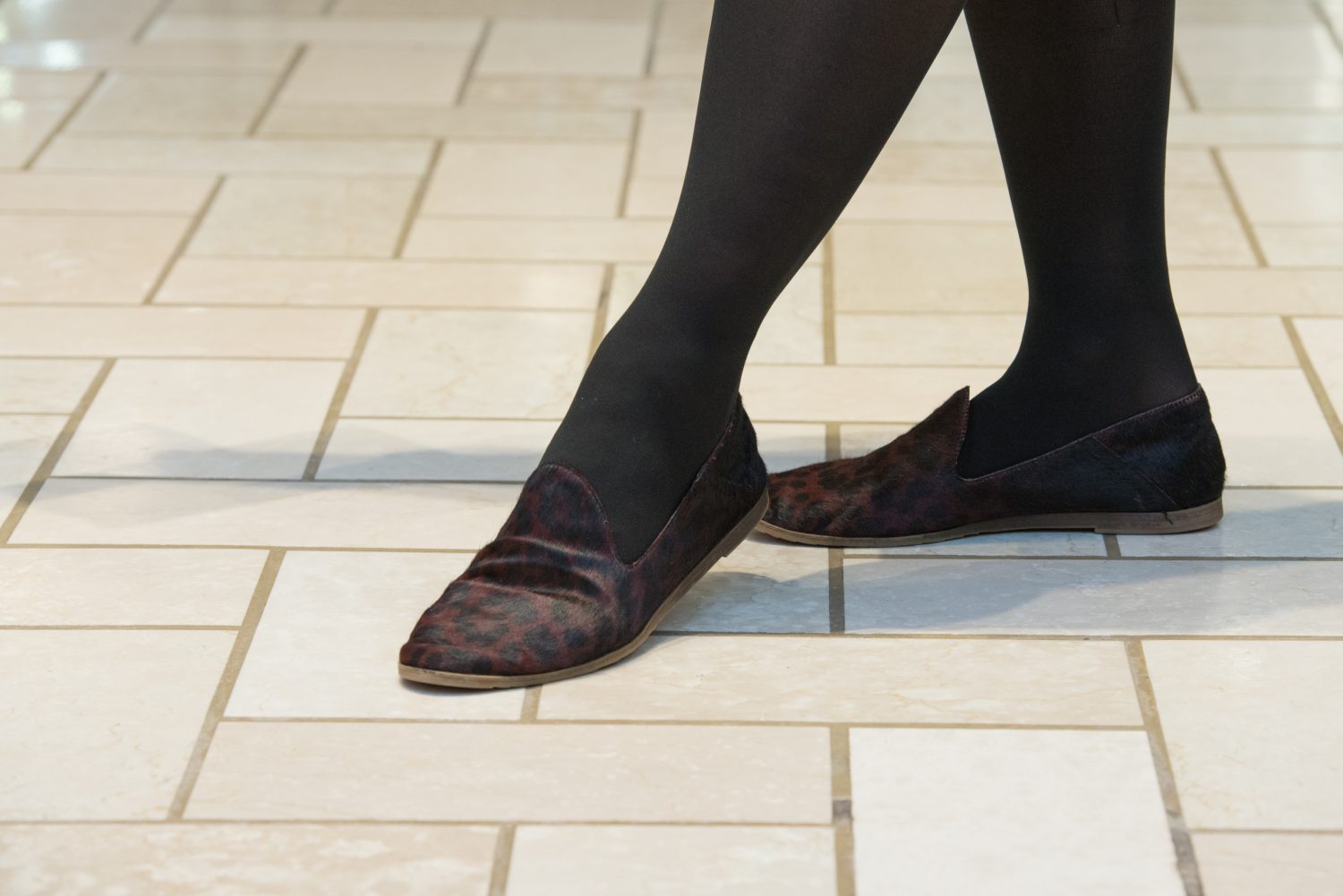 For when I don't feel like wearing heels, here we have one of my fave flats.  I was initially searching for a nice conservative black loafer when I came across these online some time ago.  Before I knew what was happening, I had them in my cart and they were whooshing their way to me.  According to my inner self, pony hair, ombre leopard print in burgundy beats out conservative black for a loafer every time.  Doesn't it feel like coming home when we find something that reflects our inner fashionista?!
So here's my favorite part of today's photo shoot.  This fun-loving gent was passing by…
With  mirth  and  laughter ,  let  old  wrinkles  come .         
–  Shakespeare.
Love,
Dee
---
Blouse: H&M (a similar style blouse available here)**
Skirt: Blanc Noir from Nordstrom Rack (similar faux leather version here, similar real leather skirt here, similar faux leather version that includes minus-sizes)**
Bag: Charles & Keith (see other Charles & Keith bags here)
Boots: Texto (similar version sans-bow here)**
Flats: (similar pairs available here)**
---
**I cannot vouch for the quality of these items, I only know that they resemble the ones I own and love.