"The compulsion inside of you that drives you to make things is a gift…this gift must be of service first and foremost to you"
– Beth Pickens, author of Your Art Will Save Your Life
As we learned in our previous post Creating Happiness by Creating, Well, Anything, doing a daily creative activity leads to an upward spiral of positive feelings.
For some people, the thought of doing something every day can seem daunting. However, author Beth Pickens offers a framework for getting back into a creative routine in Your Art Will Save Your Life. Ms. Pickens' audience is artists.  However, those of us who want to be creative but aren't making our livings as artists can benefit from her advice.  Once we examine this approach, we realize that it's an opportunity for fun while supporting our creative focus.
The first thing you need is to take the time to practice!
Expressing creativity is the way that many of us process what's going on in our lives, and without it we may feel a sense of disconnection. No matter the quality of your work, flexing that creative muscle is so important in making progress and, as the study says, starting that "upward spiral" of positive feelings.
Like to paint but don't always have chunks of time to devote to it? You might consider a digital art program such as Procreate (for iPad) or Procreate Pocket (for iPhone). They are powerful drawing/painting apps that will have you creating in a minute or you can delve much deeper and create digital art that looks like a canvas painting. It's portable, not messy, and you don't need a chunk of time to create a piece. You can use the Apple pencil with the iPad version, but the iPhone version doesn't support it so you use your finger to draw/paint.  I use it for some design sketches as you can see below.
The second thing Pickens recommends is finding is a local community of artists and creatives of all types.
They don't necessarily have to do the same thing you do; in fact, she encourages us to interact with artists of all disciplines to get feedback and support from different perspectives. It can be very motivating to be around active artists who are also taking steps to further their practice, and they'll probably relate to many of your creative struggles.
While my women's circle wasn't designed to be a creative collective, many of the women engage in art as an occupation or a hobby.  Some of our interests and occupations include:  photography, digital illustration and art, painting, quilting, embroidery, sewing, fashion design, handweaving, knitting, writing, music, landscape design, architecture, and interior design.  And all this in a group of 20 women!

The third and final component of a creative routine is making time to enjoy other art forms.
This can recharge your own creative impulses and can expose you to types of art you didn't know interested you. Pickens recommends getting out of your comfort zone and making a point to consume types of art that you think you don't like or just don't get. Chances are, you'll have a newfound appreciation for it, and maybe even be inspired to try it yourself.
To get acquainted with unfamiliar art, you definitely won't have to look far. Go to a local theater production, see what's going on at your local arts center, or even browse your friends' playlists. If variety is the spice of life, then cross-pollination from other artistic disciplines is essential.
For me, architecture is not my favorite interest.  Some friends recently brought up the Fallingwater house by Frank Lloyd Wright as a must-see experience.  Form-meets-function is integral to both architecture and clothing design, and especially relevant to my design process for clothes that fit and flatter a changed woman's silhouette. I'm definitely putting this field trip on my list for the summer to test out this cross-pollination idea.
As we get older, we have a little more time for ourselves to express our creativity.  Practice and learning new art forms and techniques, making connections with other creatives, and enjoying different art forms combine to form a lifestyle supporting those creativity needs inside us all.
For my second act, I want some form of creative expression.  I want to be surrounded by color and texture and fabric.  I'm inspired by joyful childhood experiences playing with my mother's fashion paper dolls from the 40s and 50s.  Add the wild 60s and 70s fashion to that and what a gamut of influences.  My Barbies and paper dolls were quite the collection of fashion history!
Now I get to bring that passion into creating clothes for us and that brings its own joy.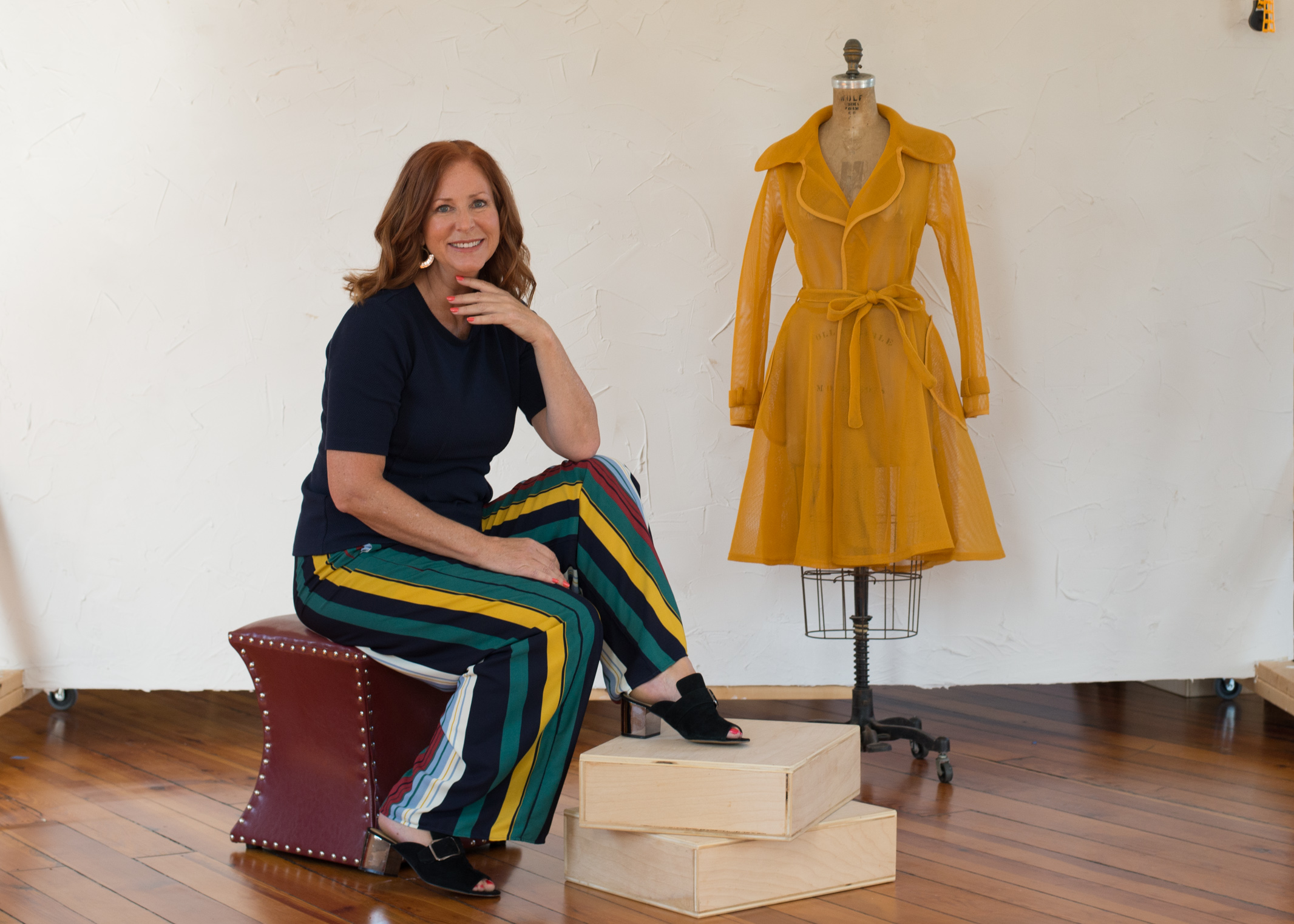 ***Photo by the uber-talented Sharon Hallman in the gorgeous studio of Sharon Hallman Photography.
With  mirth  and  laughter ,  let  old  wrinkles  come .         
–  Shakespeare.
Love,
Dee