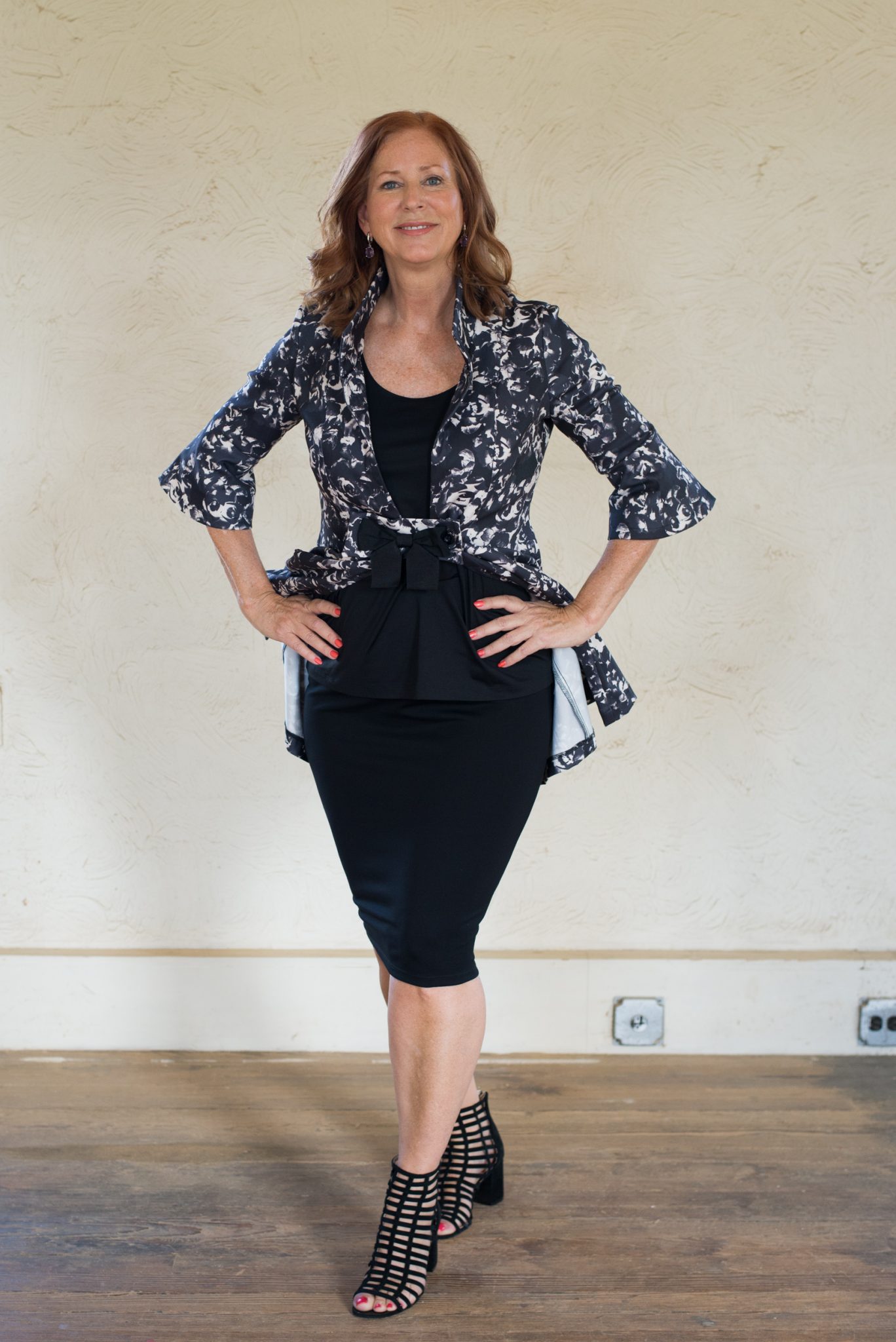 I've been looking for a comfy yet sexy pencil skirt to add to my stable of workhorse clothing and voila, here it is!
This is the Black Pencil Skirt from Covered Perfectly, a wonderful company dedicated to creating affordable, flattering clothing for women over 50.  Kudos to entrepreneur Pauline Durban for investing her life savings — at the age of 56 — to start this company for us back in 2012.  As you can imagine, hers is a story near-and-dear to my heart as I work on designing and sourcing my first clothing collection for older women.  Thank you for being a Second Act inspiration for all of us, Pauline!
Feminine and Flattering
Thanks to the knit fabric, this skirt gives the fitted look that I want plus it follows the leg line, tapering in at the knee and ending AT the knee – not inches above.  Here's why I want a close, body-contouring fit:  when I pair it with longer and/or fuller tops, I have a slimmer silhouette on the bottom half.  This slimmer look creates a more flattering and interesting proportion.  If you like to wear longer tops like I do, this pencil skirt is the perfect complement.
As soon as this skirt slid on, my inner goddess came out.  This skirt reminds us that it's ok to celebrate our curves. It invites us to feel feminine, sexy, and confident – no matter how much of our feminine shape we choose to show!  When I feel like showing more curves, I style this skirt with shorter tops/blouses and jackets.  For me, 'shorter' means hip-length so I don't have to sausage my midsection into the shapewear that is oh-so-helpful for a bodycon skirt.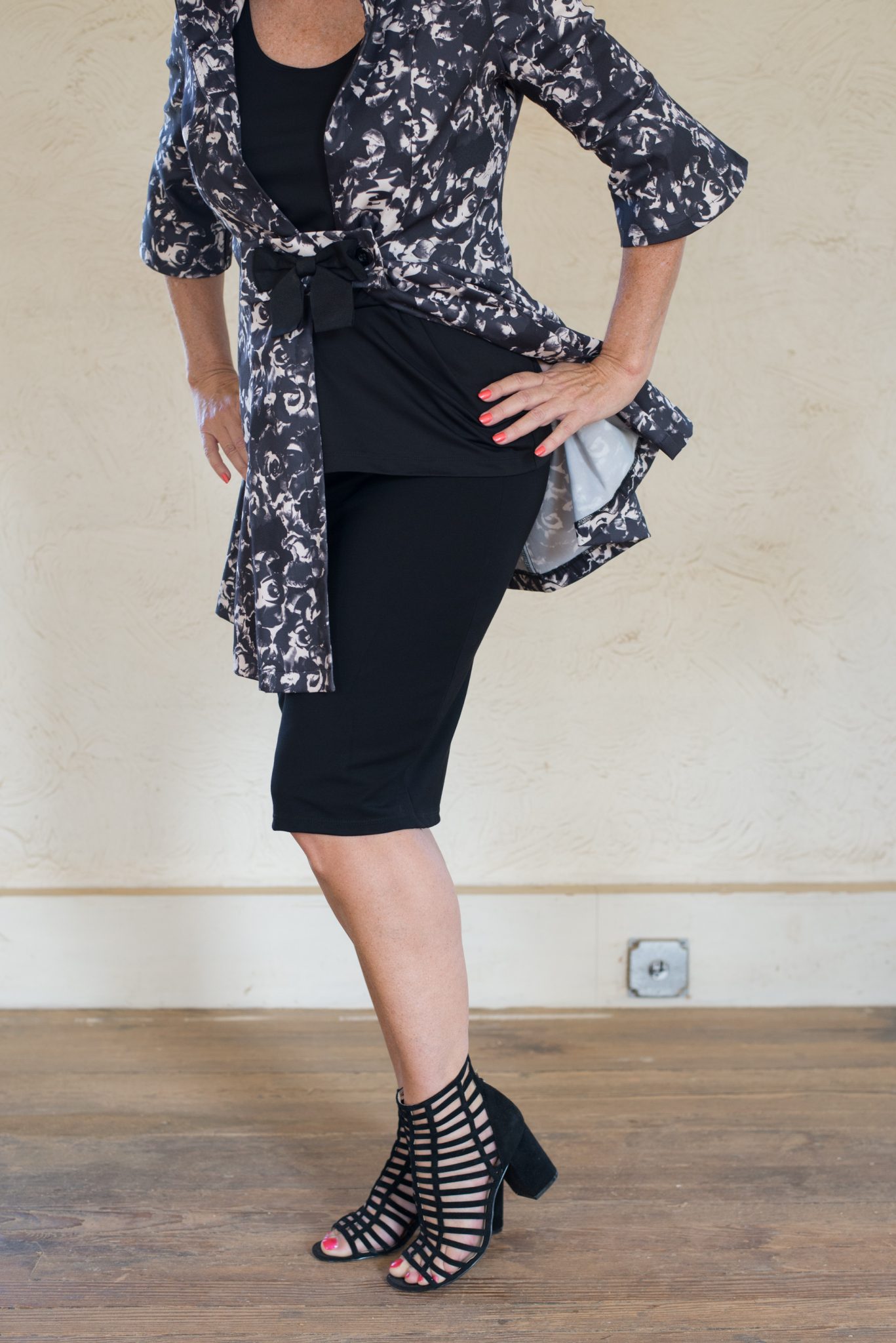 Why I Could Wear It Every Day
'Comfort' is the name of the game at this stage in my life (but that doesn't mean that I'm giving up on style!).  There's some delicious stretch and a hint-of-silk feel from the sturdy knit fabric, Ponte de Roma Modal.  The elastic waist is good for more than just comfort.  If you want to change the hem length without heading to a tailor, you can roll, hike, or push down the waistband (FYI- I don't do any maneuvering).  Because I will always wear a top over this skirt, I appreciate the smoothness provided by the elastic waist.  No buttons, fasteners, or bulky waistband to show through my top.
This skirt is so versatile, it easily goes from day to night and casual to occasion.  For a style change-up, the following photos show how different types of shoes can change the look – even if they are the same color!  Note that this skirt goes equally well with all different heel heights.   And, while not shown here, it makes a great run-around outfit with a tee, jean jacket and sneakers.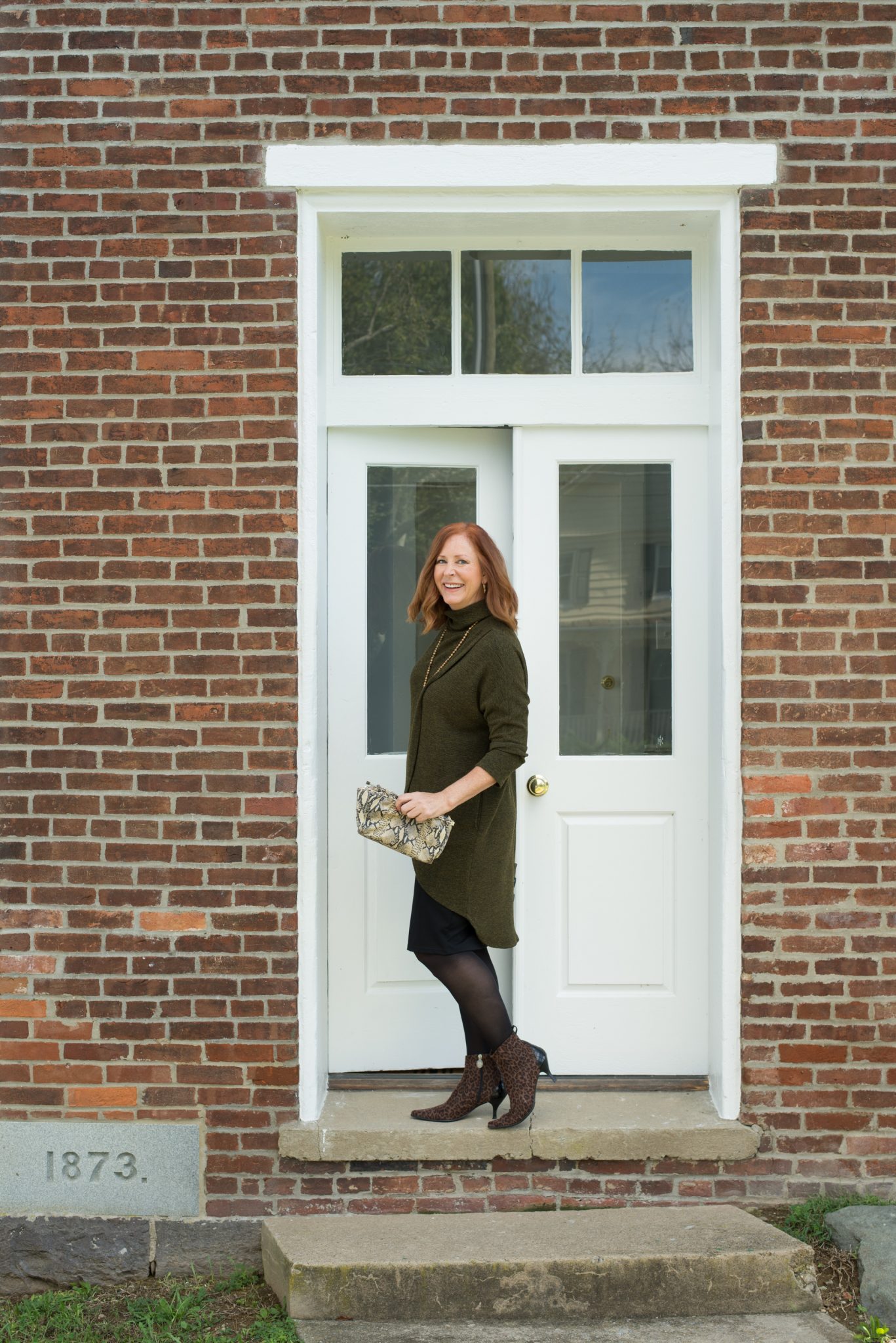 Leopard booties add edge to any outfit.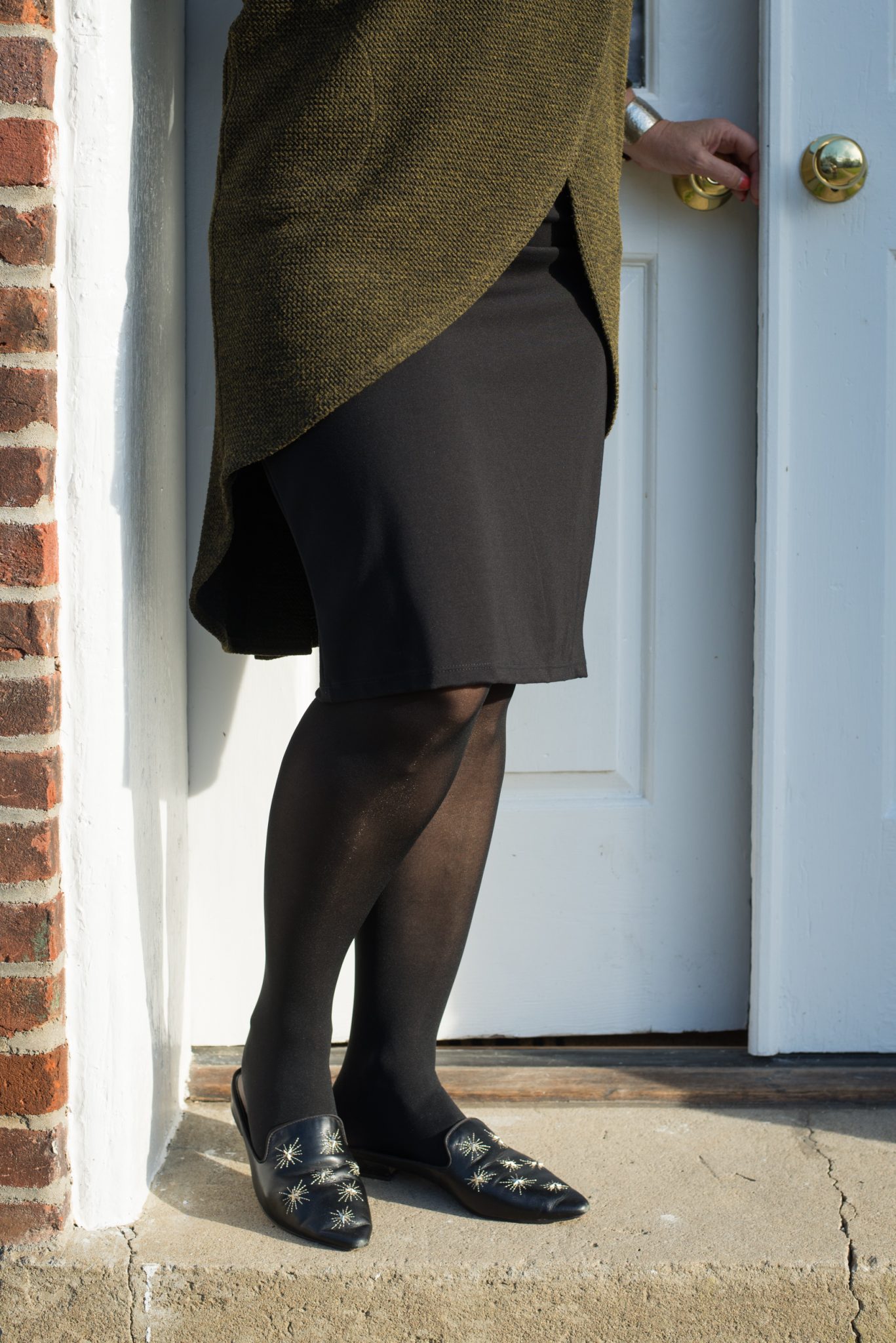 Embellished mules.  Comfort + bling = joy!
Threw this on in 2 minutes.  Sweater, skirt, and heels.  Easy peasy.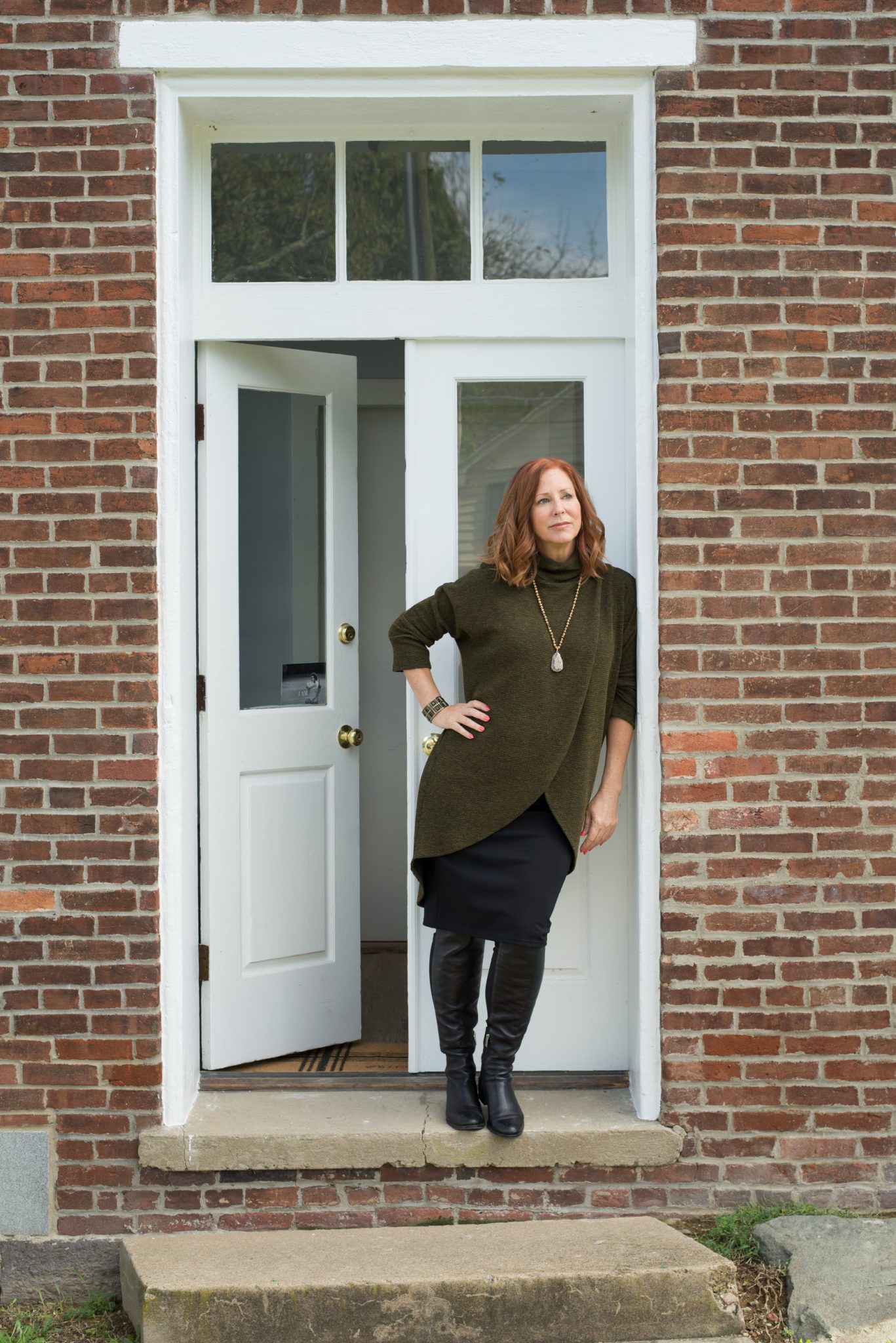 Add boots for cold weather and I'm wear-anywhere appropriate.
Like a Diva, This Skirt Performs
My fave benefit:  it doesn't wrinkle so it's great for travel.  I can roll it up and throw it in a bag or wear it on the plane and it still looks – and feels – great.  Other bennies include:
Machine washable (cold and delicate), hang or dry flat
Made in the USA
Free shipping on orders over $47 and free return shipping (US orders only). Worldwide shipping is available.
Drumroll, Please
This essential black pencil skirt is available for $39.95 while quantities last.  And those quantities may be dwindling so if you're interested, I would snap it up now!  While you're over at Covered Perfectly, check out their Glen Plaid and Rose Glen Plaid pencil skirts and their tops.  For sizing, I'm a size 12 and I wear the XL.
You may know I'm a fan of high/low dressing:  styling pricey pieces with inexpensive pieces.  This skirt rates a hefty 4 out of 4 hi-lo stars for pairing so well with my luxury brands.
And for us darling Deirdre readers, Covered Perfectly is giving us 20% off up to 2 items with the code DS20.  After that, they have a fab special 'buy 2 get the 3rd item free' that kicks in (and only one discount can be used per order – so you'll want to nab that free 3rd item!).  Happy Shopping, Lovelies!
Photography by Sharon Hallman, Sharonhallmanphotography.com.
With  mirth  and  laughter ,  let  old  wrinkles  come .         
–  Shakespeare
Love,
Dee
Disclaimer:  This post may contain affiliate links for products I love and recommend. If you click a link and make a purchase, at NO extra cost to you, I will earn a small commission to help support this site. Thanks for your support.