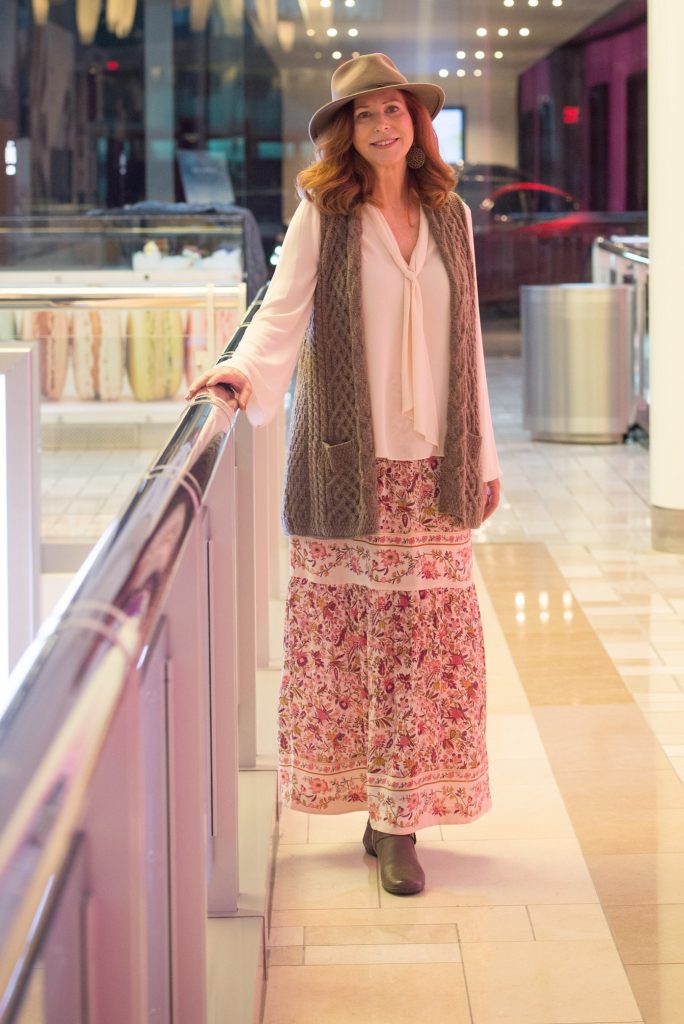 Today ,  I  want  to  stay  warm  while  still  feeling  a  little  lighter .
More  free – spirited .   For  that ,  a  bit  of  Boho  mojo .
We're all familiar with the Bohemian look of the 1960s-70s.  Lots of flowy skirts, peasant blouses, suede fringe, ethnic jewelry.  Raise your hand if you wore any of these (and if, like me, you wore them all together!).  The 70s were nothing if not dramatic.
Boho returned to the fashion arena hard in the mid-2000s as 'Boho-chic' and never left.  Women everywhere of all ages and sizes continue to rejoice.  Why?  Because it makes us feel so good in so many different ways.  Think of the elements.  Flowing and long skirts/dresses = feminine.  Loose and layers = comfort and appeals to more figure types.  Colors and prints = brighter mood.  So we can feel feminine while having some coverage and feeling comfortable and happy, too.  What's not to love?
Today's outfit is checking all of those Boho boxes.  It's hard to find femininity bundled up against the cold. Cue the long, floral tiered skirt and flowy blouse.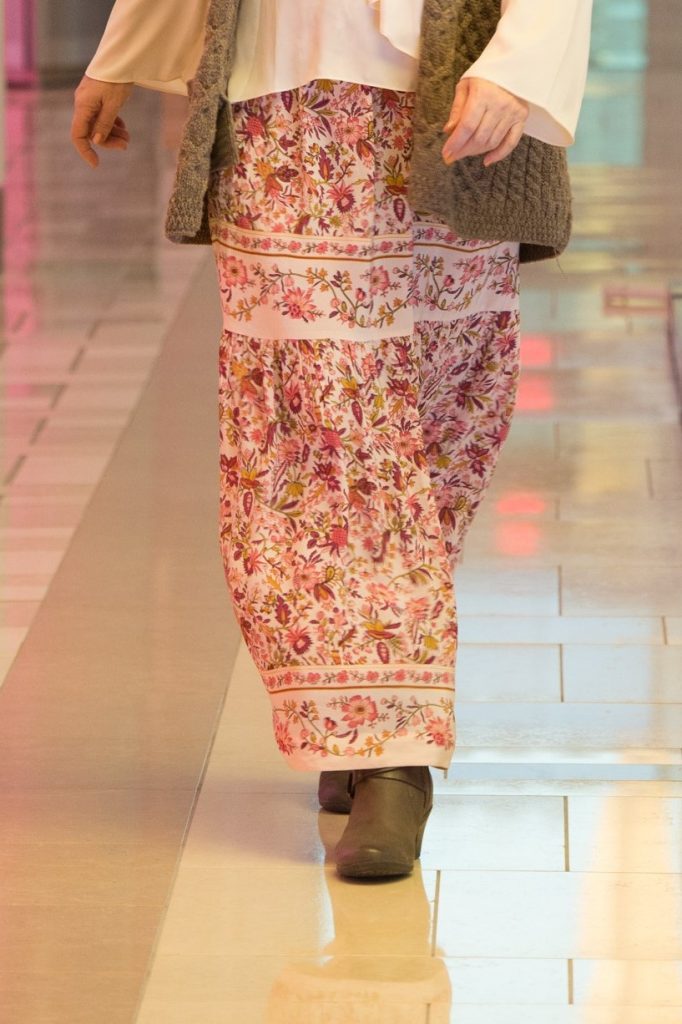 The skirt that anchors this look is so versatile. Here, I styled it for Boho. But it's so much more than that.
To see this floral skirt in a different look, go to this post.
It's a light skirt so it can be worn year round.  It makes a great Fall/Winter piece with or without layers and a carefree summer look when paired with a tee and some sandals.  It's a good thing it can be worn year 'round–it's so comfortable and I love the colors. I picked it up at a Stella Forest boutique when Michael and I were in Paris celebrating my birthday and seeing the House of Dior exhibit.  Stella Forest is a lovely brand that both my college-age daughter and I now wear.  As of this writing, they don't ship to the US, but – and here are some of the sweetest words ever written – next time you're in Paris (because we always want to believe that a trip to Paris is coming soon, right?!), it's worth stopping by one of their boutiques.
To see my favorite place in Paris, see this post.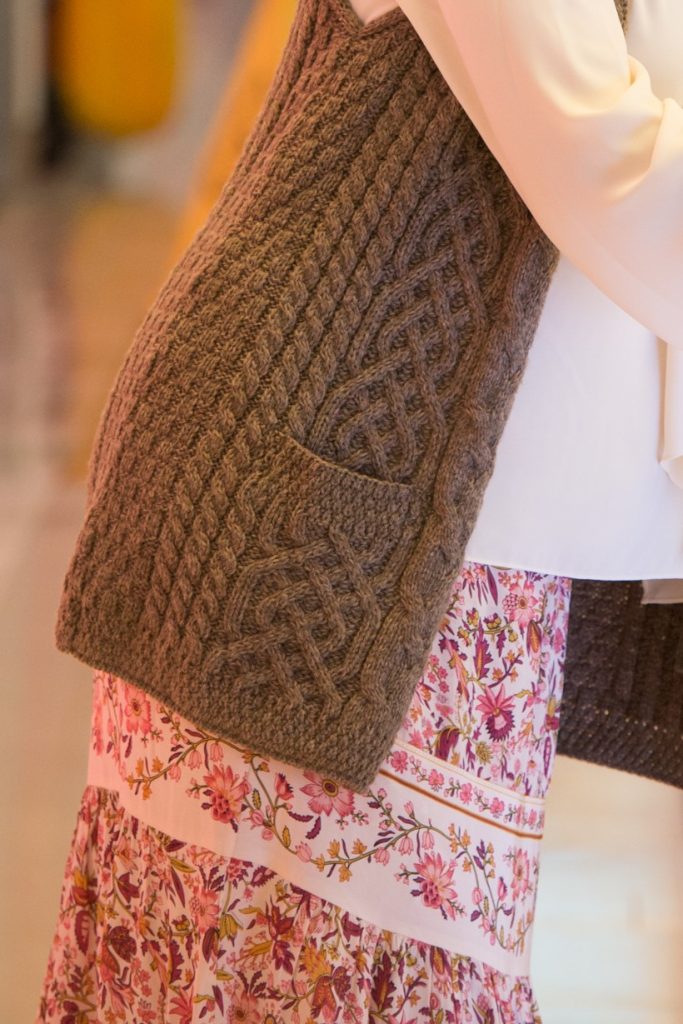 I threw on an Irish sweater vest instead of a sweater to keep my mood a little lighter. The vest was a gift from my son that he found in our local Irish treasure, Piper Dan's Keltic Shoppe, and one of my warm layers of love. As an infrequent knitter, I'm wowed by all the different patterns used in this vest and appreciate the artisanship.  And the pockets!
Boho chic celebrates texture contrasts like that of the thick, rustic sweater vest over the finely-woven skirt. Opposites attract.
I created some interest in this look by mixing the knitted patterns and the floral print.  For those of you not sure about mixing prints, a patterned sweater over a print is a very low-risk way to try it out.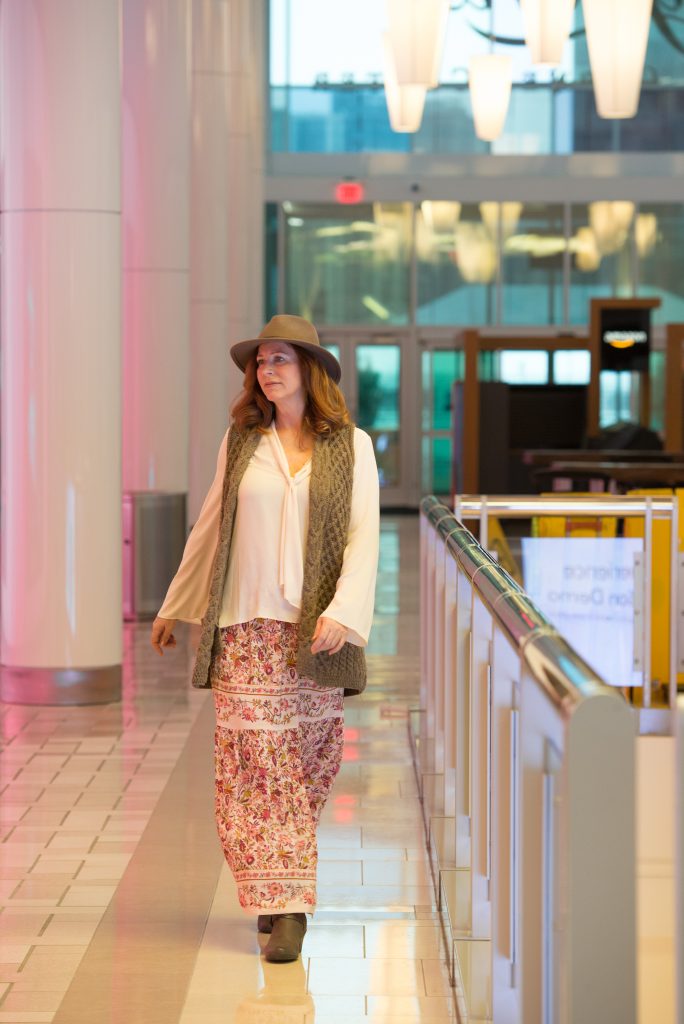 I find that when I mix patterns and/or prints, some of my creative side is revealed.  Any day I can find something in a style that resonates with the inner self is a good day.
Clothes  I  design  are  intended  to  be  problem – solvers  as  much  as  fashion  pieces ,
so I talk to women a lot about what they want to see in clothes.  A major issue that I've heard concerns a mismatch between how we feel on the inside and what we look like on the outside.  Our vibrant selves are not what we see clothed before us in the mirror.
As our figures change, our clothing options dwindle.  We don't want to dress like a 20-year-old but we don't want to look frumpy either.  We've all had those times when we just strive for 'appropriate' and hope not to be diminished by our clothing choices.  Expecting our outfit to uplift and empower us becomes the exception not the rule.
It's hard to find pieces that cover (waists, bellies, and arms are what I hear the most) and flatter.  Harder still to find pieces that do that job and communicate something of our inner selves:  vibrant, strong, caring, brilliant, romantic, sexy, fun, edgy, creative — whatever side you want to show on that day.  Take heart, though.  Just knowing that we will feel better if we manage this disconnect and let our style reveal us is powerful.  Calling on jewelry, accessories, and shoes helps bridge the gap between our inner and outer selves.
I like my feminine with a little masculine, my yin with a little yang, so I added my husband's fedora and some chunky low boots to balance out the romance of the skirt and sleeves.
Michael's hat is a Pendleton that we picked up in Portland, Oregon, which is the HQ for Pendleton.  Did you know that Pendleton  produces and weaves its own fabric in mills in Oregon and Washington?  And that most of the raw wool they use is from the US?  Their garment manufacturing is worldwide and in Pendleton facilities in Nebraska.  As a novice hand-weaver with my floor loom perched prominently in our family room, I'm always interested in how fabric and apparel get made so thanks for the info, Pendleton website.
The only jewelry I added was some oversized earrings carrying on the Boho theme.
The boots are Cobb Hill which is a Rockport brand.  Translation:  Comfort and quality.
And there you have it.  A little Bohemian rhapsody in the key of warmth.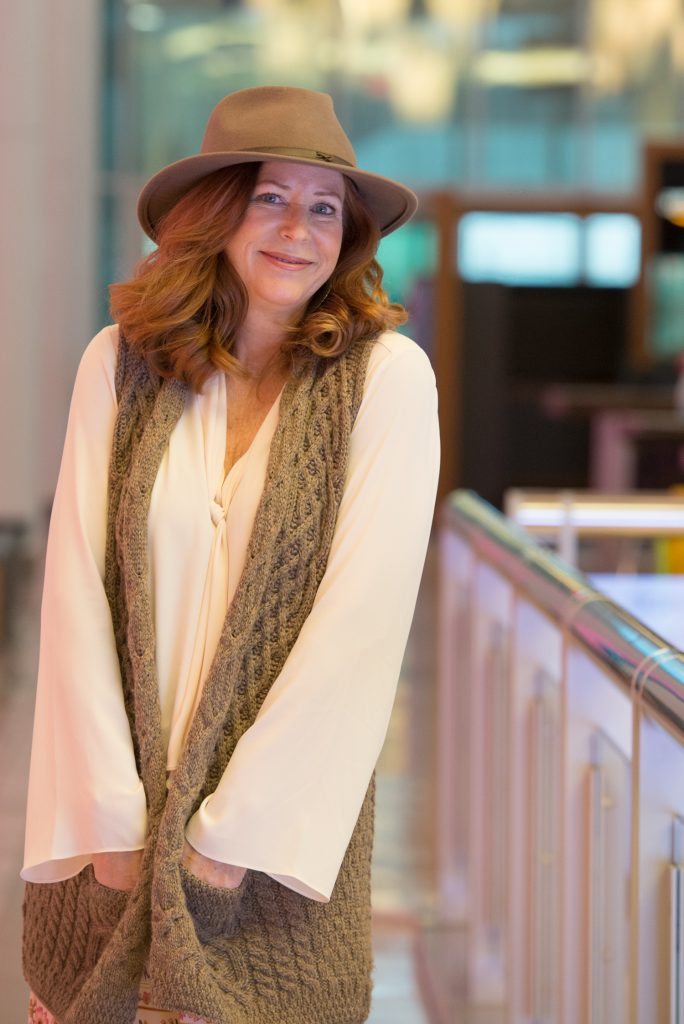 What are your thoughts on Boho chic?  Do you like mixing patterns/prints?  Share you thoughts by leaving a comment below.  Thanks – I use the feedback from this site to help design clothes we'll love.
With  mirth  and  laughter ,  let  old  wrinkles  come .         
–  Shakespeare.
Love,
Dee
---
Blouse:  Ann Taylor (similar version here)**
Vest: Piper Dan's Keltic Shoppe (similar version here)**
Skirt:  Stella Forrest (Stella Forest, a similar skirt in a blue muted palette)**
Boots:  Cobb Hill, a Rockport brand (both Cobb Hill: similar boot with a heel, similar boot without a heel)**
Hat:  Pendleton (an almost identical Pendleton hat)**
---
**I cannot vouch for the quality of these items, I only know that they resemble the ones I own and love.